If hummus hasn't already stolen your heart, get ready to fall in love with this dreamy dip. Made from nutrient-dense chickpeas, the creamy spread hails from the Middle East, where it's traditionally flavored with tahini, lemon juice, and garlic.
But the real beauty of hummus resides in its versatility: Apart from being an excellent dip, its smooth consistency and light flavor make it great for incorporating into all kinds of savory dishes. Whether you're a hummus novice or a die-hard aficionado, you'll love these 10 tasty ideas for using hummus in your everyday cooking!
The Summer 2023 Issue
is here!
Our gorgeous "bookazine" features expert tips, inspiration, and 74 fresh and tasty recipes for Summer.
Table of contents:
Hummus Base Recipe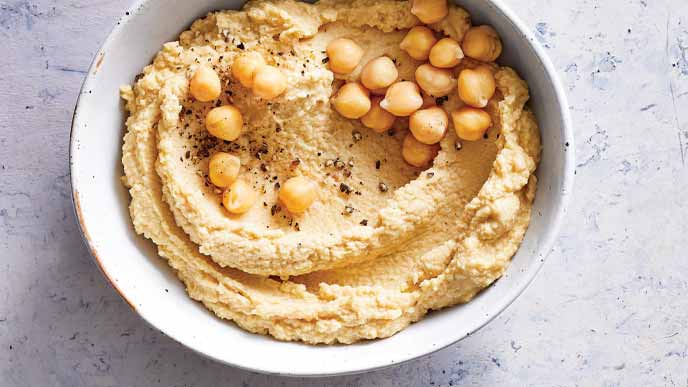 30 minutes | Makes 1½ cups
First, here's our foolproof recipe for a basic oil-free hummus that's rich in nutrients and low in calories. For the lightest, creamiest results with no added oil, boil canned chickpeas with a pinch of baking soda to soften them before blending. (Looking for more varieties? Find our full archive of hummus recipes here!)
Ingredients
1 15-oz. can chickpeas, rinsed and drained (1½ cups)
Pinch baking soda
¼ cup lemon juice
1 tablespoon tahini paste
2 cloves garlic, minced
Sea salt, to taste
Freshly ground black pepper, to taste
1. In a medium saucepan combine chickpeas, baking soda, and 2 cups water. Bring to boiling; reduce heat. Simmer, uncovered, 20 minutes or until chickpeas can be easily mashed with a fork. Drain.
2. Transfer hot chickpeas to a food processor. Add lemon juice, tahini, garlic, and 2 tablespoons water. Process 2 to 3 minutes or until smooth and creamy, adding 1 to 2 tablespoons water if needed to reach desired consistency. Season with salt and pepper.
10 Tasty Recipes that Use Hummus
Using our base recipe or any oil-free hummus, try whipping up one of these delicious recipes.
Pasta Primavera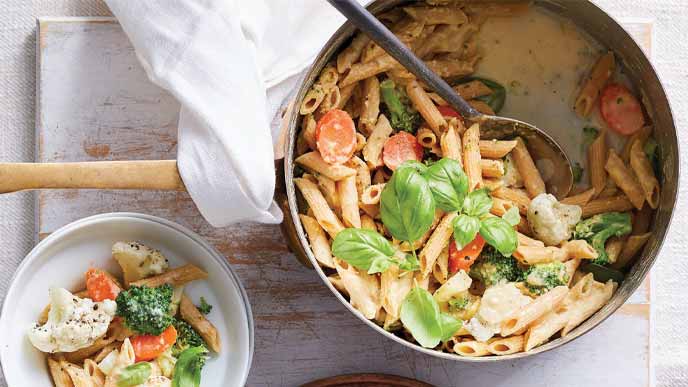 Makes 4 cups
Cook 2 cups whole grain pasta according to package directions, adding 2 cups chopped mixed vegetables the last 5 minutes of cooking. Drain, reserving ½ cup of the cooking water. Return drained pasta and veggies to pot. Toss with the reserved cooking water and ¼ cup hummus.
Tangy Tomato Tart with Hummus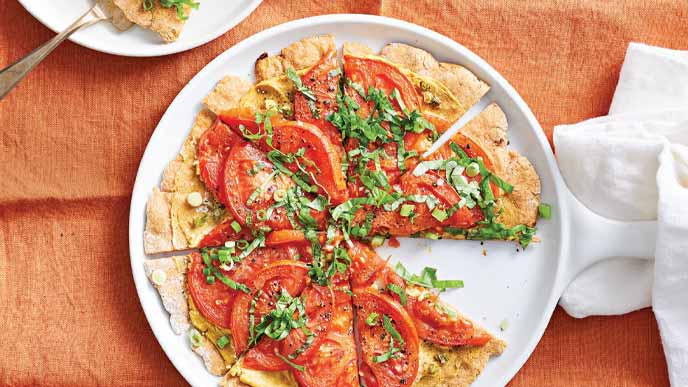 Makes one 10-inch tart
Preheat oven to 400°F. Line a baking sheet with parchment paper. In a medium bowl combine ½ cup whole wheat flour, ½ cup hummus, ½ teaspoon baking powder, and 2 tablespoons water; stir to combine. Roll out dough into a 10-inch disk. Transfer disk to prepared baking sheet; turn up edges to make a pizza-like crust. In a separate bowl stir together 2 tablespoons hummus and 1 tablespoon Dijon mustard; spread mixture over dough. Sprinkle with 2 tablespoons chopped scallions, then top with 2 tomatoes, thinly sliced. Bake 20 to 25 minutes. Garnish with fresh basil.
Sriracha Stuffed Sweet Potatoes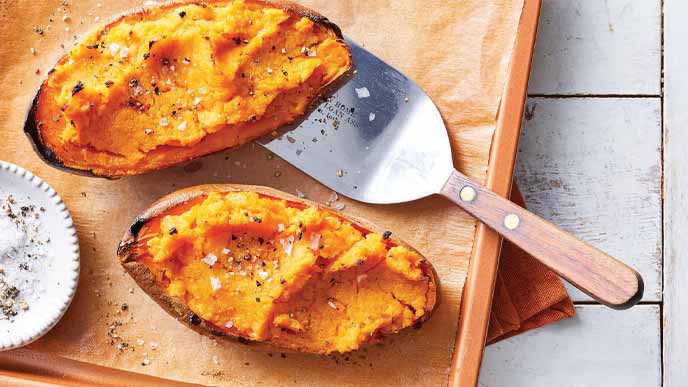 Makes 2 stuffed sweet potato halves
Preheat oven to 425°F. Prick a sweet potato a few times with a fork and place on a baking sheet. Bake 45 minutes. Let cool slightly, then halve lengthwise. Scoop out potato flesh and place in a bowl, leaving a ¼-inch-thick shell. Mash potato flesh with 2 tablespoons hummus and ½ teaspoon sriracha sauce or other hot sauce. Fill potato skins with mashed sweet potato and place on baking sheet; broil 4 inches from heat 3 to 5 minutes or until beginning to brown on top.
Easy Stuffed Zucchini Boats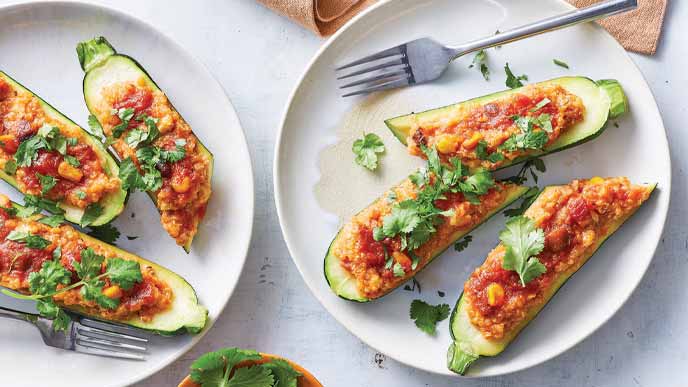 Makes 4 boats
Preheat oven to 400°F. Halve 2 medium zucchini lengthwise. Scoop out and discard seeds, then scoop out enough zucchini flesh from center to make room for filling. Finely chop the scooped- out zucchini flesh and transfer it to a bowl; add ½ cup cooked quinoa, ½ cup prepared salsa, and 3 tablespoons hummus. Fill zucchini boats with quinoa mixture. Place in a baking dish with 1 cup water and cover with foil. Bake 30 minutes; uncover. Bake 30 minutes more or until zucchini is tender.
Picnic Potato Salad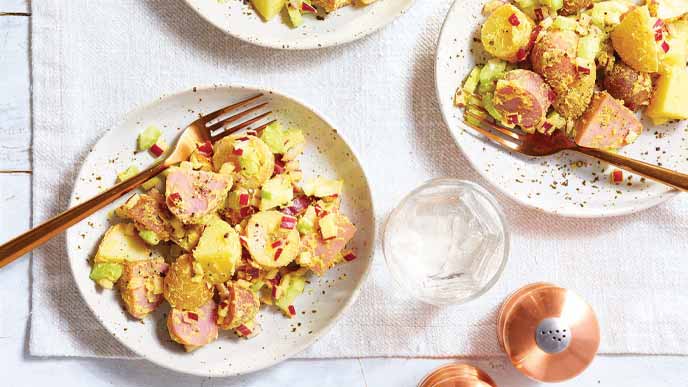 Makes 4 cups
In a large pot of boiling water cook 3 cups 1-inch potato chunks just until tender; drain. In a large bowl whisk together ⅓ cup hummus, 1 tablespoon yellow mustard, and ½ teaspoon apple cider vinegar. Add the hot potatoes, ½ cup chopped celery, and ½ cup finely chopped red onion; toss to coat vegetables. Let cool before serving.
Za'atar Pitzas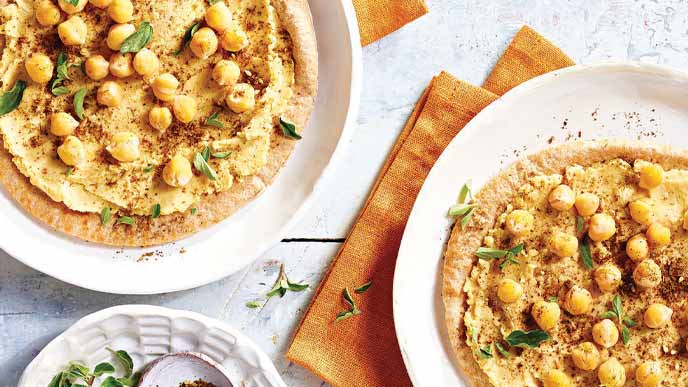 Makes 2 pitzas
Preheat oven to 450°F. Split a whole wheat pita pocket through the center to make two thin rounds; place on a baking sheet. Spread each round with 2 tablespoons hummus. Sprinkle each with 1 tablespoon za'atar spice blend and ¼ cup cooked or canned chickpeas, rinsed and drained. Bake 5 minutes or until crusts are crisp.
Roasted Veggie Wraps with Roasted Red Pepper Hummus Spread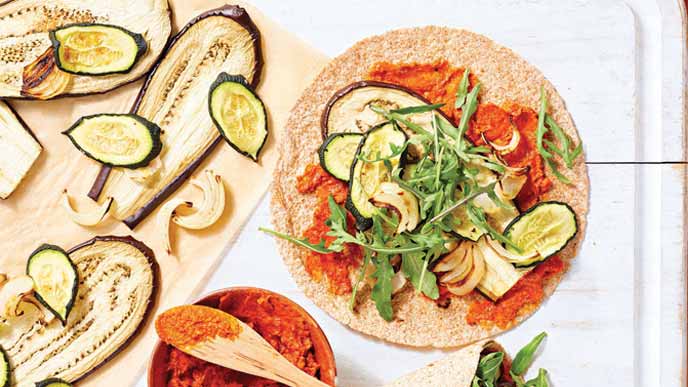 Makes 2 wraps
Preheat oven to 400°F. Line a baking sheet with parchment paper. Arrange ½ cup each sliced zucchini, eggplant, and onion on baking sheet. Roast 25 minutes, turning once. In a blender combine ½ cup jarred roasted red peppers, ⅓ cup hummus, and 2 teaspoons paprika; cover and blend until smooth. Spread hummus mixture over two 8-inch whole grain tortillas; top with roasted vegetables and, if desired, chopped lettuce. Roll up.
Summer Vegetable Gratin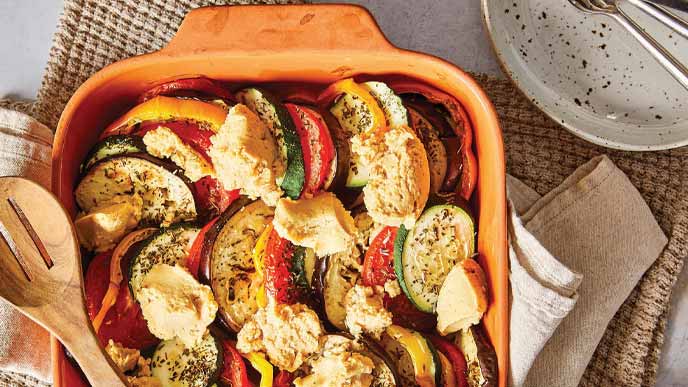 Makes one 8-inch square gratin
Preheat oven to 350°F. Slice 3 small tomatoes, 1 small eggplant, 1 medium zucchini, and 1 large yellow bell pepper into ¼-inch-thick slices; chop 1 small onion. Sprinkle onion over the bottom of an 8-inch square baking dish; top with remaining vegetables, alternating slices. Sprinkle with 2 teaspoons dried herbes de Provence, pour ½ cup water over vegetables, and cover dish with foil. Bake 30 minutes; uncover, dollop with ½ cup hummus, and bake 15 to 20 minutes more or until vegetables are tender.
Green Goddess Sauce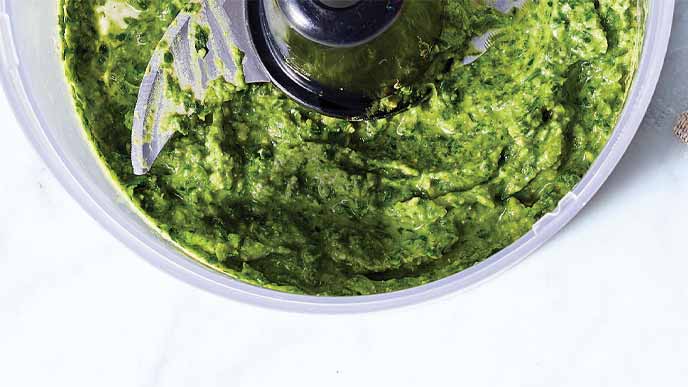 Makes 1 cup
In a small blender or food processor combine ½ cup each lightly packed fresh parsley and arugula, ¼ cup hummus, 2 tablespoons chopped fresh chives, 1 tablespoon chopped fresh tarragon, 1 small clove garlic, and ½ teaspoon miso paste (optional); cover and blend until combined. Add ½ cup water or vegetable broth; cover and blend until smooth. Serve with grain bowls or Vegetable Fritters (recipe below), or use as a salad dressing.
Vegetable Fritters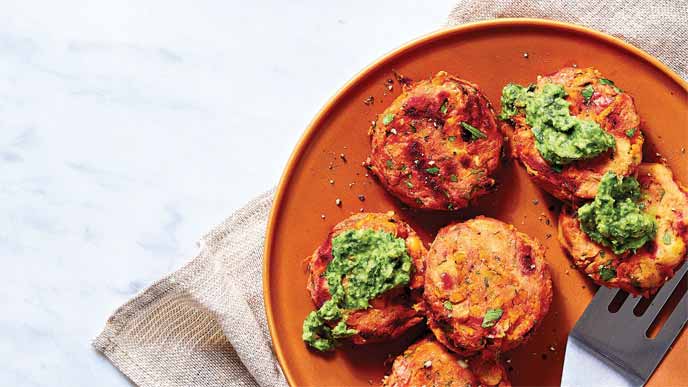 Makes 6 fritters
Preheat oven to 350°F. Mash together ⅓ cup cooked or canned chickpeas, rinsed and drained; ¼ cup hummus; ¼ cup chopped fresh parsley; 1 clove garlic, minced; and 1 teaspoon ground cumin. Stir in 1 cup grated carrots, beets, parsnips, and/or cabbage. Shape mixture into six ¼-cup patties. Arrange on a parchment-lined baking sheet. Bake 25 to 30 minutes or until browned. Serve with Green Goddess Sauce (recipe above).
Megan Edwards contributed to this article.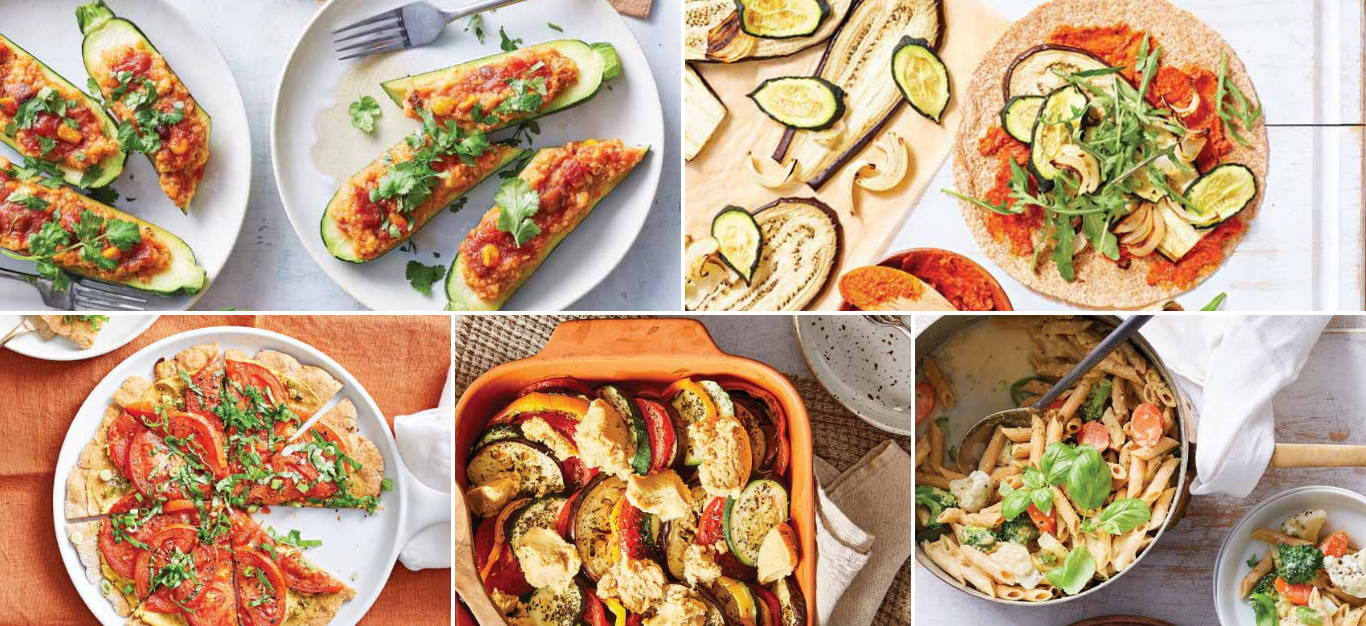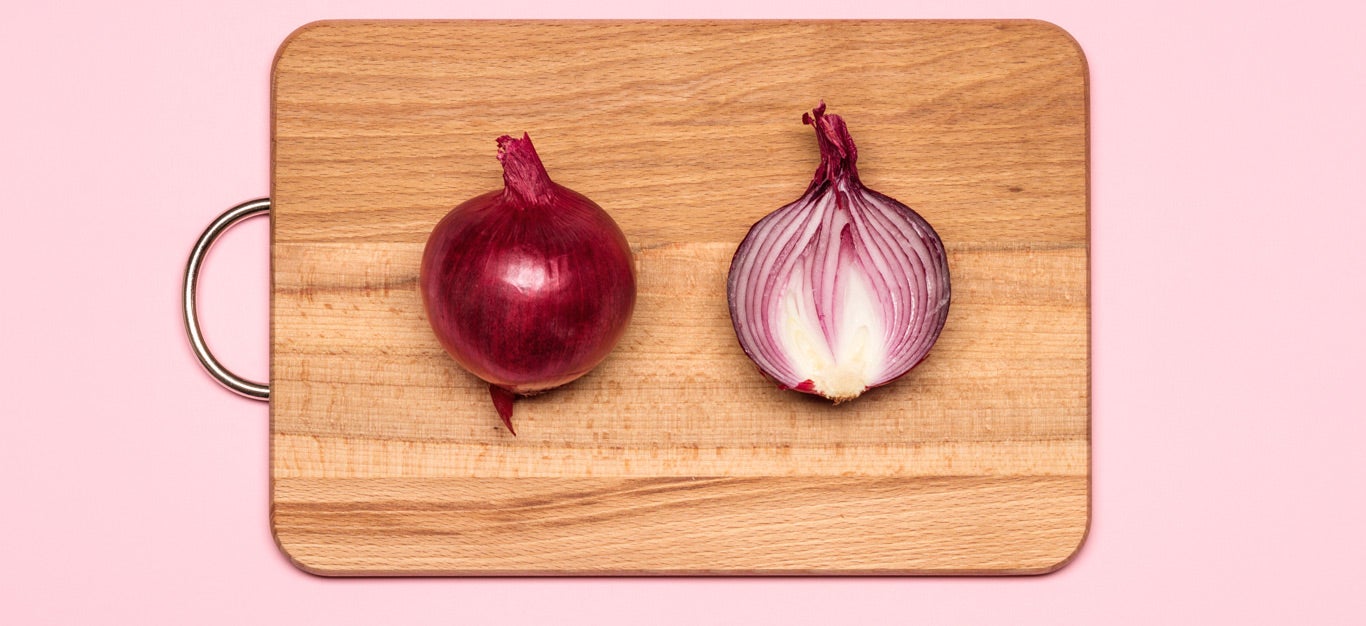 Up Next:


How To
How to Cut Onions Without Crying (Really!)