If you have yet to eat the Mexi-Pho at Saucy Porka, you can probably imagine something like it, meat and noodles in a broth a dusky red like pozole rojo. The garnishes scan as pho — basil, cilantro, jalapeño, bean sprouts — but the broth is made from pork bones, not beef, and in place of thinly sliced, rosy-red steak or springy beef meatballs you'll find succulent pork butt that has been braised and then finished in a sharpening, shading guajillo-chile sauce.
Fusion as a general concept is now so engrained in American cuisine that you don't need to overthink to find affinities between carnitas-like pork and pho, richness upon richness. For added weight, Saucy Porka serves its Mexi-Pho with thicker, chewier Chinese-style egg noodles instead of rice noodles. Yet what lingers with each spoonful of broth is the essence of pho, a flavor redolent of star anise, coriander and onion that, contrasted with the pork and an earthier chile heat, seems new again.
Saucy Porka, which opened in January where the Central West End abuts midtown, draws inspiration from the fare of several different Latin American and Asian cultures. Its menu shares some similarities with the mashup of Mexican and Korean and other Asian cuisines popularized locally by Seoul Taco and Kalbi Taco Shack, but Saucy Porka's approach is broader and — for St. Louis, at least — unique.
In fact, the chefs Amy Le and Rafael Lopez, each of whom had independently operated a food truck, co-founded Saucy Porka in 2013 in Chicago. The restaurant now has two locations in that city, and it made a coveted appearance on Guy Fieri's "Diners, Drive-Ins and Dives" on the Food Network. (Lopez has left the restaurant industry but remains a consultant to Saucy Porka.)
Le is a St. Louis native who grew up in the restaurants her mother, Loan Pannell, owned in south St. Louis County and St. Peters. Le herself took a circuitous route into the industry, working first as a journalist and later as head of social media and PR for Grubhub in the delivery app's infancy. The Grubhub position brought her back to restaurants, and in 2011 she launched the banh mi-focused food truck DuckNRoll.
For the St. Louis location, Le and her husband and co-owner, John Keebler, have partnered with Le's brother, Phil Le, who brings nearly two decades of experience at restaurateur Munsok So's So Hospitality Group (Drunken Fish, Kimchi Guys). The trio have taken over the former Kaldi's at the corner of Laclede and South Vandeventer avenues. The space has good bones, with big windows facing both streets, and Saucy Porka has given it a modestly sleek makeover, with salmon-pink accent walls and pops of green botanical décor accenting a sober gray scheme. The dining room is set up for counter service, but you can also order at your table on your phone from a menu accessed by QR code.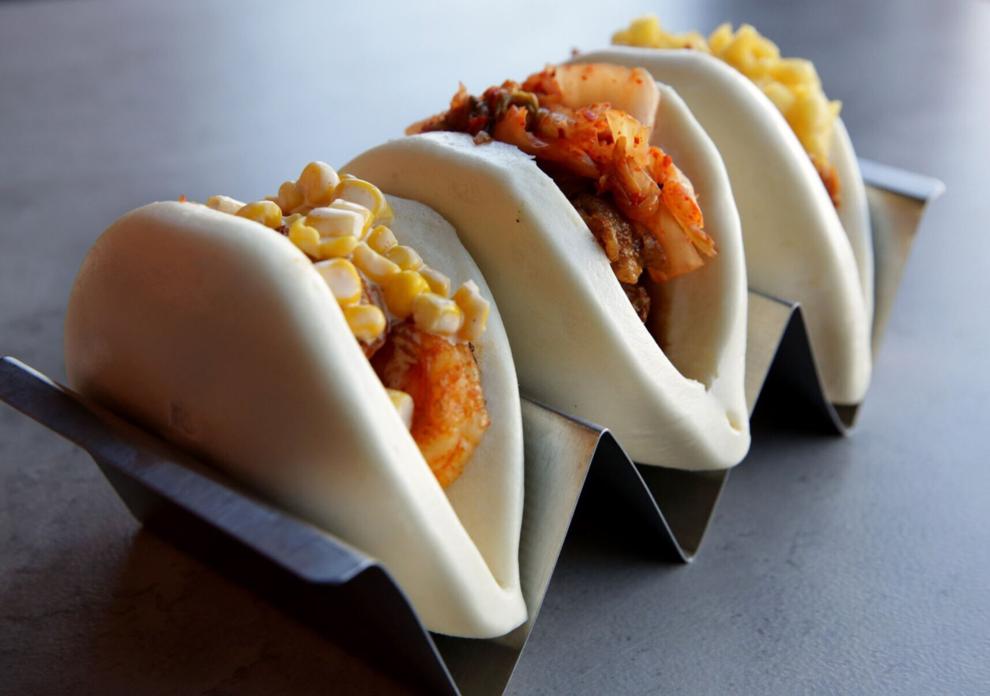 That menu is essentially divided among rice bowls, banh mi and baco — a reimagined taco with Taiwanese-style bao playing the role of the tortilla — with appetizers, soups and salads. (The menu also specifies multiple examples each of vegetarian, vegan and gluten-free options.) If no other dish struck me with the creative, flavorful force of the Mexi-Pho, much of the cooking here is smart and playful. This particular location is new, but Le has clearly honed and polished her concept over the past nine years.
Pork is a focal point, whether in the Mexi-Pho or folded into its baco cradle, where the guajillo-seasoned meat is given a sensible, al pastor-esque accent of pineapple salsa. Garlicky roasted pork and a thick slice of ham anchor the Cubanh Mi, a play on the Cuban sandwich that draws its bite from a jalapeño aioli and pickled onions.
Among Saucy Porka's baco and banh mi, my favorite combination might be deeply beefy ropa vieja electrified but not overwhelmed by the fizzy heat of kimchi. For other meats and seafood, Le looks to more expected accents: tender duck with the warm notes of five-spice powder and a nudge of sweetness from plum sauce; shrimp, fried or grilled, in a smoky chipotle salsa; chicken in a panang-curry sauce with a fiendish heat barely tempered by coconut milk.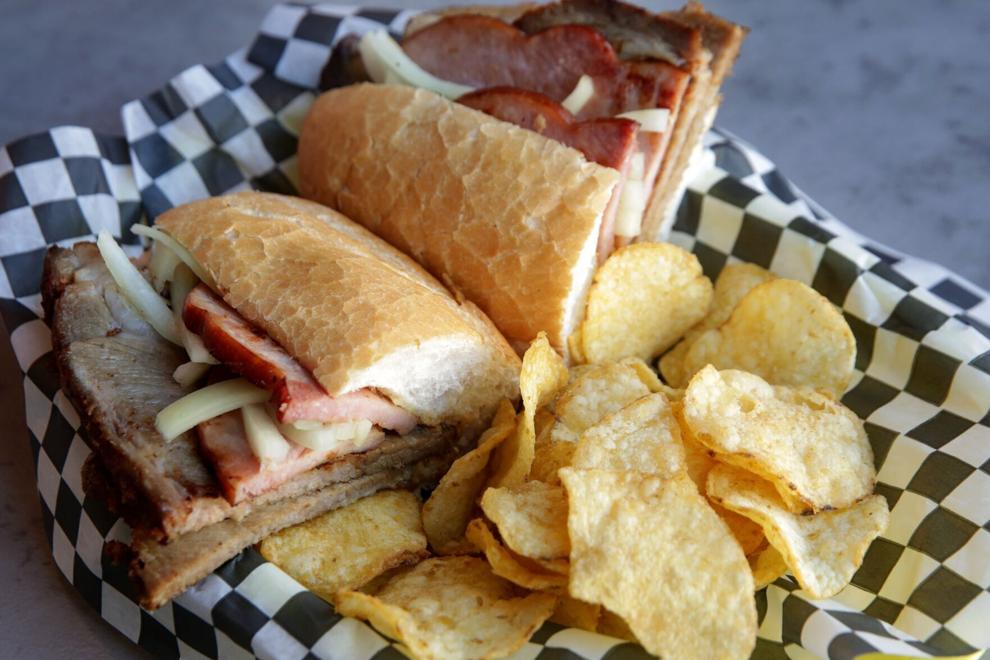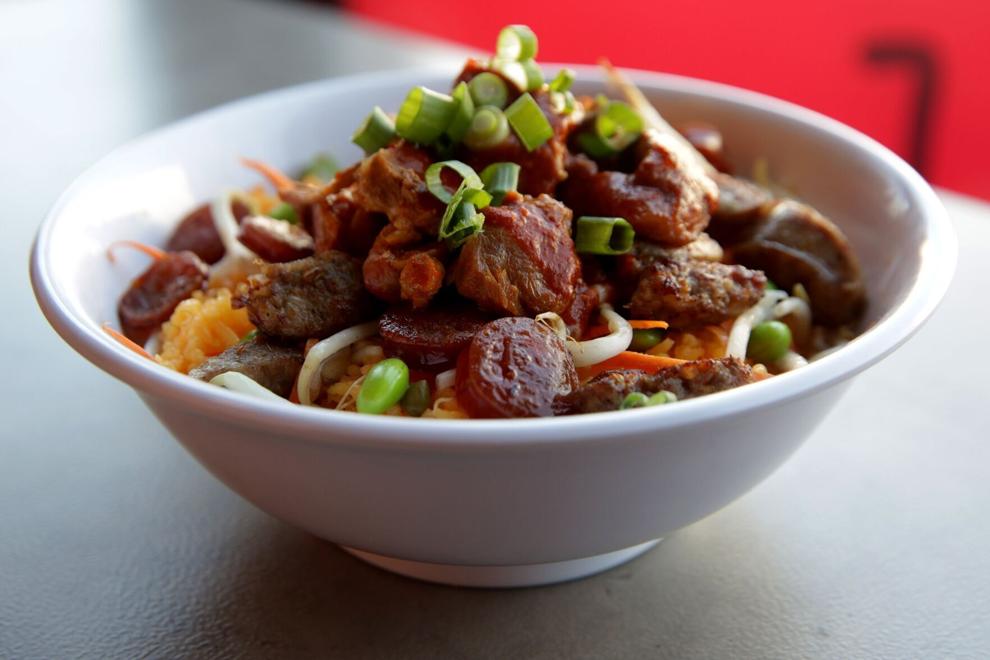 I generally preferred the bacos to the banh mi. Even when the latter is garnished with the restaurant's "Asian slaw," which approximates the familiar banh-mi garnish, my orders lacked the crackle and snap the sandwich usually displays. One caveat about the bacos, though. They are served in the sort of ridged metal tray some Mexican restaurants use for tacos. On one visit, the exterior of my bao stuck to the metal and started to tear apart.
A few dishes could stand a little more intensity. Gumbo leads with the aforementioned five-spiced duck, but the broth doesn't energize or compellingly contrast the duck's flavor. The paella, a rice bowl and a signature dish, pays tribute to co-founder Lopez's Puerto Rican heritage. A riff on arroz con gandules, it swaps in edamame for pigeon peas and triples down on pork with carnitas, Chinese-style sausage and a milder pork sausage. The sheer oink of the dish obscures its seasoning, though. It hums at, say, a 5 when the volume needs to be a 7 or even 8.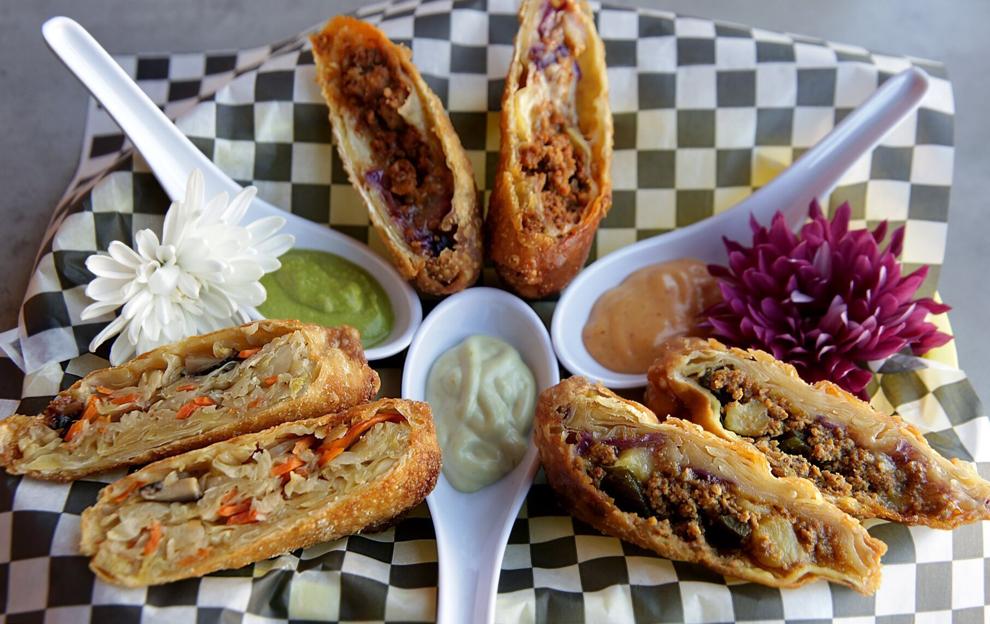 The rice bowl with picadillo ground beef hits the right note: savory, of course, with meat, potato and a fried egg on top; but also fragrant with cumin, with bursts of golden-raisin sweetness and a backbeat of moderate poblano heat. The picadillo ground beef also stars in the standout appetizer, a crackling egg roll also stuffed with red cabbage and a little Chihuahua cheese. (A version with chorizo and sweet potato and a vegetarian roll are also available.) Stuffing one dish inside another and frying it might be the original fusion cuisine — as easy to imagine as it is compelling.
Where Saucy Porka, 3900 Laclede Avenue • More info 314-818-2700; saucyporka.com • Menu Latin American-Asian fusion fare • Hours 11 a.m.-8 p.m. daily