Prawn toast
Prep 10 min
Cook 1 hr 10 min
Chill 1 hr+
Serves 4
For the prawn mix
200g shelled prawns, 50g roughly chopped
1⅔ tsp (8ml) sesame oil
⅔ tsp (4g) salt
1¼ tbsp (4g) finely chopped coriander leaves
1 loaf sourdough, sliced
Black and white sesame seeds
For the Korean-style sweet-and-sour sauce
20g grated garlic
Sunflower or other neutral vegetable oil
250g sugar
25ml mirin
75g gochujang
50ml lime juice
25g cornflour
First make the sauce (I like lots, so would normally make double this amount). In a heavy-based pan on a medium heat, sweat the garlic in a couple of drops of oil, then add all the remaining sauce ingredients and 100ml water. Bring to a simmer, then cook gently for anything up to an hour, until it has reduced right down to a glaze. Add another 150ml water, bring to a boil, then pass through a fine, muslin-lined sieve into a container. Leave to cool, then cover and chill.
Next, make the prawn mix. Put the whole prawns and sesame oil in a blender and blitz smooth. Scrape into a bowl, add the chopped prawnssalt and coriander, stir to combine, then set aside.
Liberally cover one side of each slice of bread with the prawn mixture, then top with a scattering of sesame seeds. Pour up to a litre of neutral oil into a heavy-based pot that's wide enough to hold a slice of the toast, and heat until it's hot enough to turn a scrap of bread golden brown within 15 seconds. Carefully ease a slice of the prawn-coated bread into the hot oil, and fry for a minute or two on both sides, until the prawn mix is cooked through. Lift out with a slotted spoon, drain on a plate lined with kitchen paper and repeat with the remaining bread. Serve hot with the sweet-sour sauce.
Chicken yakitori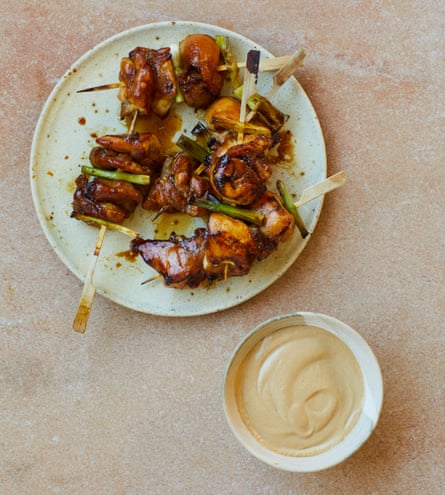 Prep 15 min
Marinate 30 min+
Cook 1 hr 10 min
Serves 4
For the sesame sauce (or gome dare)
100g tahini
50g miso paste
15ml light soy sauce
15ml mirin
15ml rice-wine vinegar
¾ tsp (5g) grated garlic
For the marinade (or tare)
60ml sake
60ml mirin
25g brown sugar
50g brown onion, peeled and thinly sliced
50g fresh ginger, peeled and thinly sliced
250ml chicken (or vegetable) stock
120ml dark soy sauce
40ml light soy sauce
For the yakitori
8 skinless boneless chicken thighs, cut in half if large
1 bunch spring onions
4-8 skewers (if wooden, soak them in cold water first)
Mix all the ingredients for the sesame sauce in a bowl and set aside.
Now make the marinade. Pour the sake and mirin into a heavy-based pan, bring to a boil, then carefully flambé to burn off the alcohol. Stir in the sugar until it dissolves, then add the sliced onion and ginger, and cook gently for 30 minutes, until the liquid is a deep caramel colour. Add the stock and both soy sauces, simmer gently for five minutes, skimming off any scum that comes to the surface, then take off the heat. Leave to cool, fine strain through a fine sieve into a container, then add the chicken thighs and refrigerate for at least 30 minutes and up to two hours.
Heat the oven to 200C (180C fan)/390F/gas 6, and cut the spring onions into 5cm lengths. Lift the chicken out of its marinade. Put one piece of spring onion on a skewer, follow that with one chicken thigh (or, depending on size, half a thigh), folded over, then repeat with another spring onion and another chicken thigh (or half chicken thigh). Repeat with the remaining skewers, onions and chicken, then put the skewers on a baking tray lined with greaseproof paper. Drizzle the remaining marinade over each skewer, then bake for 15-20 minutes, until the chicken is cooked through and scorched in places. Serve hot with the sesame sauce for dipping.
Grilled hispi cabbage
Prep 10 min
Infuse 30 min
Cook 25 min
Serves 4
For the Vegemite bechamel
500ml full-fat milk
125g spanish onion, peeled and thinly sliced
2 garlic cloves, peeled and crushed
2 sprigs fresh thyme
30g butter
30g plain flour
100g gruyere, grated
40g Vegemite
For the cabbage
2 tsp salt
1 hispi cabbage, cut into quarters lengthways through the root
25g crispy fried shallots, shop-bought or homemade, to serve
25g chives, finely chopped, to finish
Put the milk, onion, garlic and thyme in a heavy-based pan and bring to a simmer. Take off the heat, cover with a cloth and leave to cool and infuse for half an hour.
Strain the milk into a jug or bowl, wipe out the pot and put it back on the stove on a low heat. Melt the butter, then stir in the flour to combine – you don't want it to take on any colour. Turn up the heat , pour in the milk and whisk to prevent any lumps forming. Bring the bechamel to a simmer, then stir in the gruyere and Vegemite. Taste, add a little more Vegemite, if need be, then take off the heat.
Fill a large pan with water, add the salt and bring to a boil. Have ready a bowl of iced water. Carefully lower the cabbage wedges into the boiling water and blanch for five or six minutes, until just tender. Lift out the cabbage with tongs, dunk into the iced water, then pat dry and arrange in a heatproof dish or tray lined with greaseproof paper.
Turn on the grill to its highest setting, then liberally coat the cabbage with the bechamel , making sure some of it gets in between the leaves. Grill until the cabbage and sauce are caramelised and nicely golden brown, then remove, garnish with the crispy shallots and chives, and serve hot.
Milk Beach is an Australian restaurant and bar with two sites in London