Hummus is one of my beloved things to snack on. It is total of protein and is a good way to take pleasure in new veggies, pita bread or pretzels.
While there are lots of delightful hummus kinds you can get premade at your area grocery shop, hummus is amazingly quick to make making use of just a couple of very simple components. I like creating it myself so I can command the sum of sodium and steer clear of unwanted additives. To make the system go speedier, I use canned garbanzo beans and boil them down with a little fresh new lemon juice and garlic.
The outcome is a lighter, extra textural hummus. I like to major this with fresh marinated vegetables and serve it on a bed of butter lettuce as an appetizer or facet salad.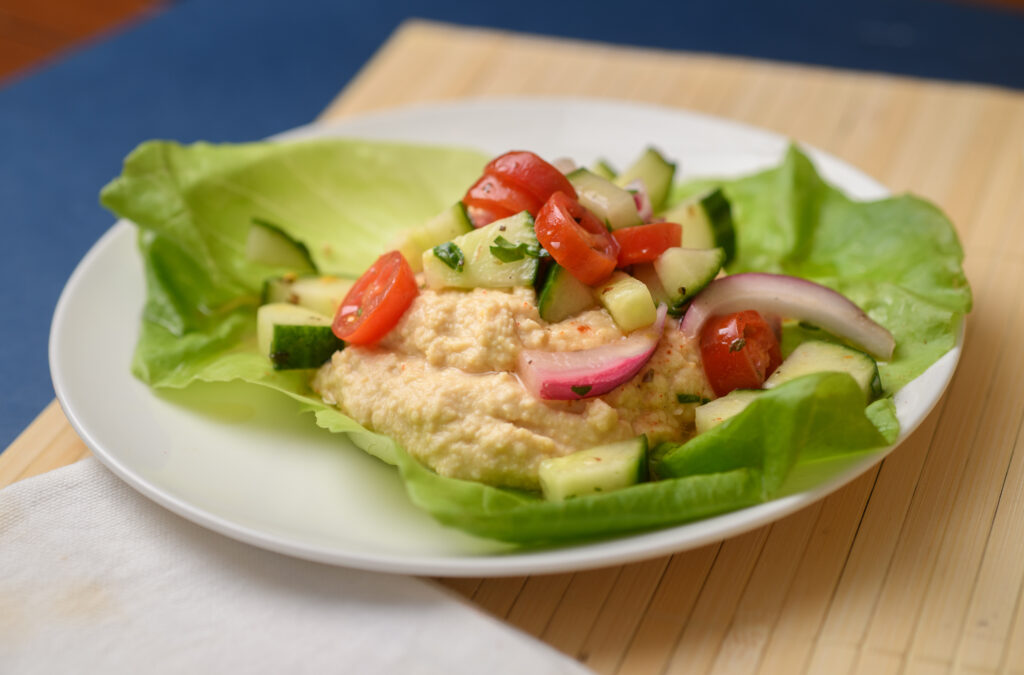 Servings: 6
---
For the hummus:
2 16-ounce cans garbanzo beans
3 tablespoons olive oil
3 cloves minced garlic
½ teaspoon new lemon zest
2 cups h2o
½ cup lemon juice
½ teaspoon salt
¼ cup tahini (sesame paste)
¼ teaspoon smoked paprika
---
1. Drain and rinse the garbanzo beans. Set apart.
2. In a large pot, heat the olive oil. Sauté 2 cloves of the garlic and the lemon zest right up until aromatic, about 10 to 15 seconds.
3. Incorporate the rinsed garbanzo beans and sauté for an additional moment. Pour in the 2 cups of h2o, ¼ cup of the lemon juice and the salt. Provide every little thing up to a boil and then lessen the heat. Simmer 30 minutes, stirring at times. Transform off the warmth and make it possible for the garbanzo beans to amazing. 
4. Drain the beans, reserving 1 cup of the cooking liquid. Put the garbanzo beans into a foodstuff processor.
5. Increase the remaining lemon juice and the rest of the minced garlic. Commence processing. With the foods processor running, pour in a minor of the reserved cooking liquid a tablespoon at a time right until the combination gets smooth and creamy. 
6. Taste and modify the seasonings if needed and then pour into a serving dish. Drizzle the prime with the remaining olive oil and sprinkle with the smoked paprika.
---
For the fresh new veggies:
¼ cup purple wine vinegar
1 clove minced garlic
¼ teaspoon dried oregano
¼ teaspoon dried mint
Pinch of salt and pepper
1/3 cup olive oil
1 cup chopped cucumbers
1 cup chopped tomatoes
½ cup shredded carrots
½ cup sliced Kalamata olives
½ cup new chopped spinach
6 leaves butter lettuce, washed and dried
---
1. In a mixing bowl, whisk alongside one another the vinegar, garlic, dried herbs, salt and pepper. Drizzle in the olive oil until finally all is incorporated.
2. Insert the chopped veggies, and stir to coat.
3. Area the lettuce leaves onto 6 salad plates. Set 2 significant spoonfuls of the hummus into each and every lettuce leaf. Prime every one with a pair of spoonfuls of the greens. Serve.
---
This article was at first posted in the August 2022 challenge of 225 journal.