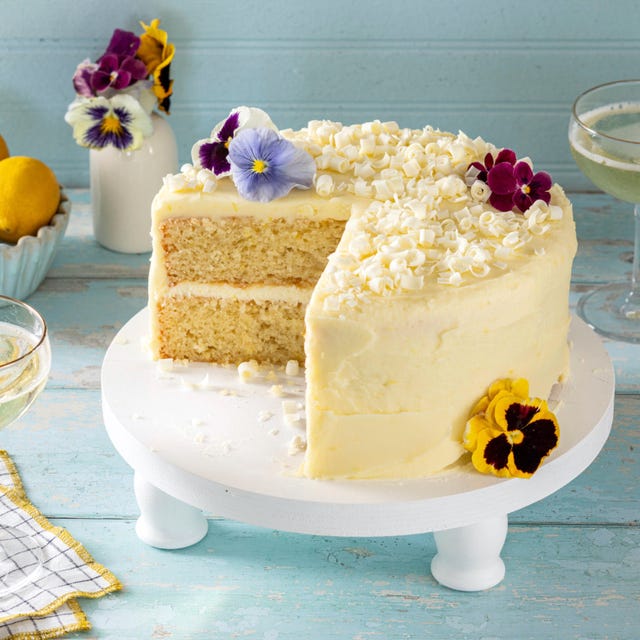 Will Dickey
Sunny lemon cake is the perfect dessert to anchor any celebration! This two-layer beauty is just as wonderful as a Mother's Day cake as it is to finish the ultimate Easter menu. Pair it with homemade lemonade on a sunny day for the brightest spring dessert course!
What does lemon cake taste like?
Lemon cake is reminiscent of a simple vanilla or white cake made from scratch, with an added layer of brightness and zing from fresh lemon. This lemon cake uses both the zest and a hefty amount of fresh lemon juice to give the cake its tart, bright edge. Butter, vanilla, eggs and sugar give richness and a hint of sweetness, but this cake recipe also uses an unexpected ingredient—olive oil—to achieve its moistness and tender crumb.
Can I bake with olive oil?
Yes! Olive oil bakes much like vegetable oil in baked goods, however there are a couple of things to keep in mind: Olive oil has a more aromatic flavor profile than a neutral vegetable oil, and those flavors will end up in the finished cake. That said, be sure to bake with fresh olive oil (check the expiration date!) that hasn't been open in the pantry for too long. Give it a good sniff before using: if the oil lacks a fruity or grassy scent or smells somewhat stale, it's best not to use for this cake (substitute vegetable oil or canola oil instead). Additionally, baking with a light olive oil can ensure that the flavors of this cake are in balance. It's best to save olive oils labelled "robust" or with peppery or spicy flavors for savory dishes.
What is the best way to decorate lemon cake?
There are so many options for decorating this cake, from seriously simple to fancy and new! Chocolate curls are impressive and incredibly easy to make—check out Ree Drummond's foolproof tutorial and sub white chocolate for semi-sweet. For a quicker white chocolate garnish, shave a block of white chocolate with a vegetable peeler or sprinkle white chocolate chips over top of this cake. Edible flowers are another incredibly simple, beautiful garnish. Not necessarily meant for eating (though you can!) they add beautiful color and keep your cake food safe. If you've got pansies, violas, borage or nasturtium in your garden, trim a few of them to decorate your cake.
Advertisement – Continue Reading Below
Yields:

10
– 12

servings


Prep Time:

0

hours

30

mins


Total Time:

2

hours

45

mins


For the Cake
2 1/2
c.

all-purpose flour
1
stick salted butter (1/2 cup), melted and cooled to room temperature
1 3/4
c.

granulated sugar
3
large eggs, room temperature 
1
c.

buttermilk, room temperature
2
tbsp.

lemon zest (from 2 lemons)
1/3
c.

fresh lemon juice (from 2 to 3 lemons)
Nonstick baking spray with flour
For the Lemon Buttercream
1
c.

salted butter, room temperature
4
oz.

cream cheese, room temperature
1
tbsp.

lemon zest (from 1 lemon)
5 1/2
c.

confectioner's sugar
3
tbsp.

fresh lemon juice (from 1 lemon)
3 to 4 drops yellow food coloring, optional
To assemble
White chocolate curls, and/or edible flowers
This ingredient shopping module is created and maintained by a third party, and imported onto this page. You may be able to find more information about this and similar content on their web site.
For the cake: Preheat the oven to 350º.
Whisk together the flour, baking powder, baking soda, and salt in a medium bowl.
Whisk together the butter, olive oil, and sugar in a large bowl until combined. Add the eggs and whisk for 1 to 2 minutes, until lightened in color. Add the vanilla, buttermilk, lemon zest and juice, and whisk to combine. Add the flour mixture and whisk to combine.
Spray 2 8-inch round cake pans with baking spray with flour. (Alternatively: butter and flour the pans). Divide the batter evenly between the prepared pans. Tap the pans a few times each on a kitchen towel on your counter-top to level the surface and remove air bubbles from within the batter.
Bake for 28 to 32 minutes or until toothpick inserted into the center comes out with only a few crumbs. Transfer to a cooling rack. Let cool in the pans for 10 minutes, then turn out onto a cooling rack to cool completely, about 1 1/2 hours.
For the frosting: Add the butter, cream cheese, and lemon zest to the bowl of an electric stand mixer fitted with the paddle attachment and beat on medium speed until creamy, about 2 minutes. Add the powdered sugar. Beat on low speed until combined. Increase the speed to medium and beat until smooth, about 1 minute. Scrape down the sides and bottom of the bowl. Add the lemon juice and yellow food coloring, if using. Beat until light and smooth, about 2 more minutes.
To assemble: Trim the cake layers to make the tops flat and even, as needed. Place 1 cake layer on a cake plate. Spread 1 cup of buttercream over top. Top with the second cake layer and spread buttercream all over the top and sides of the cake.
Garnish with white chocolate curls, lemon slices, and/or edible flowers, if you like.
Buttermilk gives this cake an extra tang, but feel free to substitute it for whole milk if that's what you have on hand!
This content is created and maintained by a third party, and imported onto this page to help users provide their email addresses. You may be able to find more information about this and similar content at piano.io
Advertisement – Continue Reading Below