Food

These five dishes highlight local, seasonal ingredients and classic New England cooking.
Five Boston chefs have shared some of their favorite recipes for impressing company, capitalizing on seasonal ingredients, or simply changing up the dinner rotation.
With the holidays and winter fast approaching, these meals are hearty, filling, and doable for even a kitchen novice. They also serve as a reminder of the (often overlooked) delights of New England cuisine. 
Squash risotto with pancetta, brown butter, and sage
Chef Colin Lynch (Bar Mezzana, Black Lamb, Shore Leave, No Relation)
This warming, simple risotto dish looks more complex than it is — it's all about risotto technique, says Lynch.
Serves 4 for an entree and 6 for an appetizer
3 buttercup squash or 1 butternut squash (2-3 cups cooked flesh)
1/4 cup olive oil
6 thin slices pancetta
1 onion, finely chopped
6 tablespoons butter
1/4 cup parmesan cheese (grated)
2 cups canaroli rice
1 cup white wine
6-8 cups water
10-15 sage leaves
Salt and pepper to taste
Preheat over to 350F. Cut squash in half and remove seeds. Rub squash with a little olive oil, salt, and pepper. Place cut side down on a parchment-lined baking tray and place in the oven for 35-45 minutes or until the flesh is soft and caramelized. Let cool to room temp and scoop out the flesh with a spoon. 
In a wide, shallow saucepot, heat a few glugs of olive oil over medium heat and crisp the pancetta like bacon. Remove it and drain it on paper towels. Add the onion to the pan. You want to sweat this out aggressively for a few minutes, trying not to get color on the onion (but if you do, don't worry — it's still going to taste good). Add the rice and cook for a few minutes with the onions, coating and tossing the grains to toast them slightly.
Add the wine. Turn the temp to medium-high. Boil and stir until the wine has almost completely evaporated. Slowly add the water in three or four increments. You may not need all of it, depending on how al dente you want the rice. Just before adding the final increment of water, add the squash and mash a bit with a wooden spoon. Your goal is to have some of the squash in chunks and some that purees into the rice. Once the rice is 90 percent cooked, turn off the heat. 
In a separate pan, brown half of the butter and add the sage leaves, frying them till crisp. At the same time, add the remainder of the butter and the cheese to the rice and stir in. The consistency should be loose enough that when you spoon the risotto onto a plate it will settle slowly and not mound on top of itself. Adjust with water if necessary. 
To plate, spoon onto each plate and top with a spoonful of the hot brown butter and sage mixture, getting a few leaves on there as well. Place a piece of pancetta on top and finish with a little more parmesan cheese. 
Baked burrata cheese in roasted tomato sauce
Chef Sarah Wade (Stillwater, 120 Kingston St., Boston)
Wade gives a winter-weather take on traditionally summer flavors: tomato, basil, and Burrata.
5 cored and large ripe tomatoes, diced
1/2 yellow onion, diced
10 basil leaves
2 garlic cloves
1/4 cup olive oil
Salt and pepper to taste
1 piece Burrata
Preheat oven to 350F. Place all ingredients but Burrata, salt, and pepper in an oven-safe Dutch oven. Bake uncovered for 1 hour. Remove from oven and cook on the range over medium heat for an additional 45 minutes or until thick. Mash tomatoes with a whisk to help break up the sauce. Season with salt and pepper to taste.
To serve, preheat the oven to 400F. Put an inch of sauce in the bottom of a ceramic dish. Place 1 piece of Burrata in the middle. Bake for 5-10 minutes or until the cheese is melted. Serve with baguettes and crackers. Any leftover sauce is great on pasta!
Fall fruits with Middlebury blue cheese
Chef Eric Cooper (Forage, 5 Craigie Circle, Cambridge)
Aiming to source as many ingredients locally as possible, Cooper lets the flavors of fall in New England shine with this simple salad.
Portioned per person
1 cup salad greens
½ cup apples, pears, or other seasonal fruit, cut into wedges
1 cluster Concord grapes
1 ounce wedge Middlebury blue cheese
Pistachio vinaigrette to taste
Pistachio vinaigrette recipe follows. This produces almost two quarts of vinaigrette, but most blenders won't work well in half-batch sizes. It keeps beautifully and is, frankly, addictive, says Cooper, adding that at home, he uses it on sandwiches and to dress fish or marinate meats.
1 cup toasted pistachios, chilled in the fridge
¼ cup cider vinegar
Healthy pinch of salt
3-4 cups oil
Ice water as needed
In the blender, puree the nuts, vinegar, and salt until smooth. Slowly emulsify in the oil, pouring it in a thin stream, thinning and cooling as necessary with cold water.
To assemble the salad, arrange the cut fruit and the wedge of cheese on chilled plates. Dress the greens with the vinaigrette and place them on top. Place the pretty little cluster of grapes on the side.
Braised pork shoulder with creamy polenta and butternut squash caponata
Chef Sam Curtis (Madre Osteria, 88 Wharf St., Milton)
This sure-to-impress dish highlights seasonal ingredients like root vegetables and cranberries, while the savory, tender pork shoulder is the star of the show.
Braised pork shoulder
1 Boston-style pork butt
1 cup sugar
1 tablespoon salt
1 tablespoon cinnamon 
1 teaspoon nutmeg 
1 tablespoon pickling spice
1 onion
1 carrot
1 bulb fennel
1 bottle of Peroni or other pale lager beer
1 bottle of Coca Cola 
1 tablespoon tomato paste
Slice pork into chunks, about 3-by3 inches. Mix dry ingredients and rub pork, allowing at least 10 minutes for the meat to absorb the sugar. In a hot pan or on any grill, mark the outside of the pork, until no pink is visible. 
Transfer the pork into a deep pan or crockpot. Add all veggies and liquid ingredients and bring to a boil. Place pan in the oven at 350 degrees for 3-4 hours or in the crockpot at medium-low for the same amount of time. Remove from heat when pork is fall-apart tender, without breaking too many pieces off the meat. Set aside at room temp.
Butternut squash caponata 
1 butternut squash fully cleaned and cubed
1 onion julienned
1 bulb of fennel julienned
1/2 cup sugar
1 teaspoon crushed red pepper
1/2 cup red wine vinegar
1 cup fresh cranberries 
1 cup Craisins
1/2 small can tomato paste 
1 cup white wine
1 cup water
Clean and cut all veggies. Roast butternut squash at 405F for 20 minutes, or until tender. Set aside at room temp. In a large pan, heat two tablespoons of EVOO, then add onions, carrots, and fennel, cooking until tender at medium-low heat. Add sugar and red pepper, plus salt and pepper to taste. Add cranberries and craisins, white wine, tomato paste, and water. When these ingredients have made a loose sauce, add roasted butternut squash, stir until fully combined.
Creamy polenta 
1 1/2 cups water
1 1/2 cups milk
1 cup polenta
1 1/2 cups grated Parmesan 
3 tablespoons butter
3 teaspoons kosher salt
Bring liquid to a low boil. Stir in polenta and whisk until the mixture begins to boil. Stir in butter and cheese.
To plate: in a large bowl or serving dish, make a bed of polenta. Reheat caponata in a pan with a little water so that it won't burn, adding a little chopped parsley or shredded Kale for that beautiful emerald green contrast. Spoon the caponata on top of the polenta. Reheat pork shoulder in a hot pan with olive oil for 7-8 minutes in a 400F oven. Place pork on top of polenta and caponata, then cover liberally in braising liquid, Maldon salt, and lemon juice.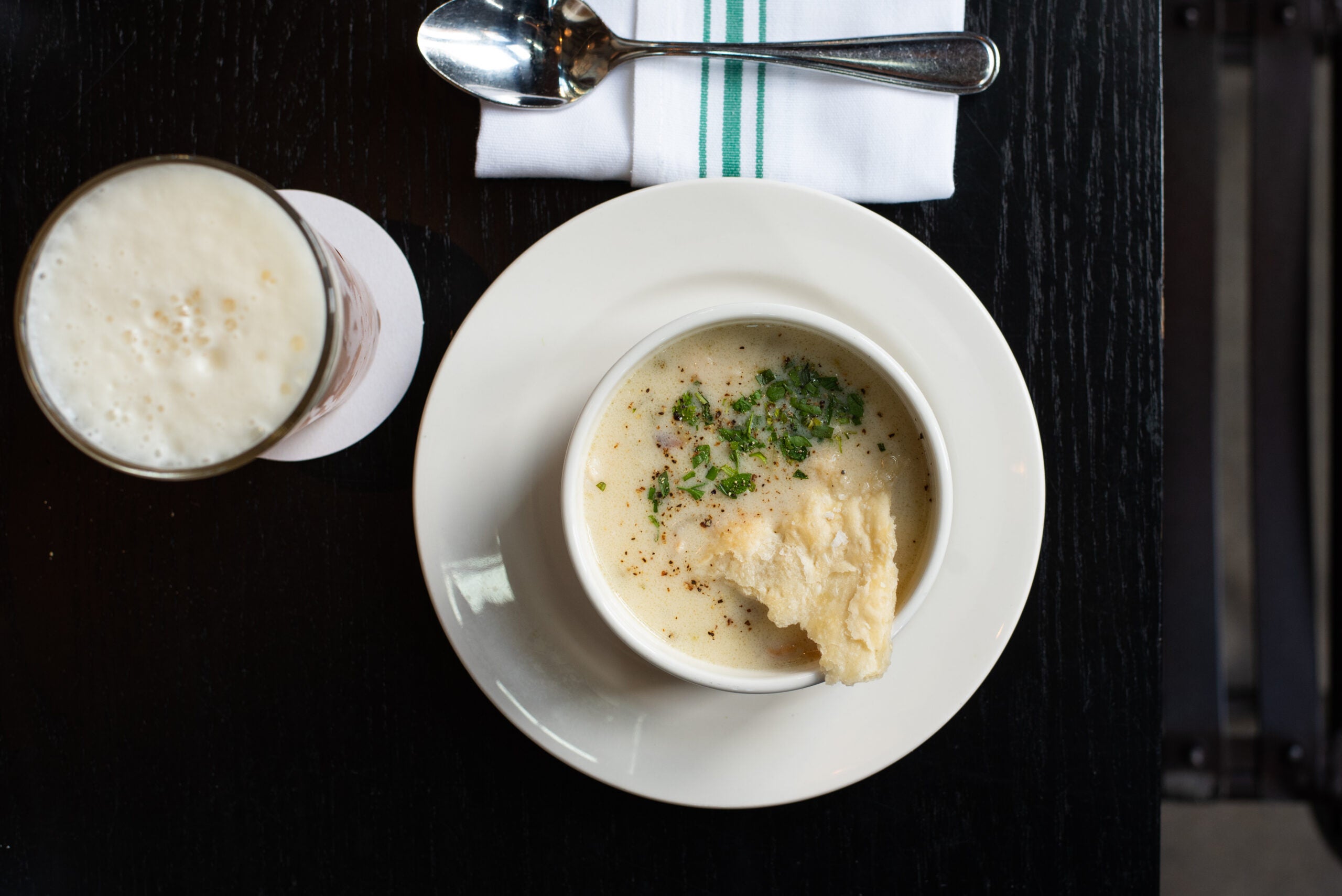 New England clam chowder
Chef Jeremy Sewall (Row 34, 383 Congress St., Boston)
While this soup is always hearty and warming, Sewall prefers it not too thick, calling his recipe a "slightly simplified version." This recipe is excerpted from Chef Sewall's new cookbook, The Row 34 Cookbook: Stories and Recipes from a Neighborhood Oyster Bar.
Serves 6 to 8
18 cherrystone clams, well cleaned  
3 cups clam juice
6 slices bacon
2 tablespoons unsalted butter
1/2 cup diced yellow onion
1/2 cup diced celery
1/4 cup diced leek
1/3 cup unbleached all-purpose flour
3 cups half-and-half
2 bay leaves
2 cups diced (unpeeled) red potato
Kosher salt
2 teaspoons lemon juice
2 teaspoons Worcestershire sauce
2 teaspoons Tabasco sauce
Freshly ground black pepper
1 tablespoon chopped flat-leaf parsley
1 cup crumbled Saltines
Place the clams in a Dutch oven with 2 cups of clam juice. Cover and bring to a simmer over medium heat and cook until the clams open. Remove the clams with a slotted spoon and let cool slightly. Pick the meat from the shells and chop the meat into thirds; set aside. Strain the cooking liquid and reserve. Clean out the Dutch oven.
Line a plate with paper towels. Cut the bacon into 1/2-inch pieces and place in the Dutch oven. Cook over medium heat so that the bacon renders slowly. When the bacon is very crisp, use a slotted spoon to transfer it to the prepared plate, leaving the fat in the pan. Add the butter to the bacon fat and stir until melted.
Lower the heat to medium-low and add the onion, celery, and leek; sauté for 4 minutes. Add the flour a little at a time, stirring well with a wooden spoon or rubber spatula to combine between additions and scraping the bottom of the pan to make sure the mixture doesn't stick. When the flour is incorporated, add all of the reserved and remaining clam juice and stir to combine.
Bring to a simmer while stirring constantly. Add the half and half. Return to a simmer, still stirring to ensure the soup does not burn on the bottom. Add the bay leaves and simmer over medium heat for 15 minutes, stirring occasionally.
While the chowder is simmering, put the diced potato in a medium saucepan and add cold water to cover. Season with salt, bring to a boil, then reduce the heat and simmer until tender, 10 to 12 minutes. Drain the potato and set it aside. To finish the chowder, remove and discard the bay leaves and stir in the clams, crispy bacon, potato, lemon juice, Worcestershire sauce, and Tabasco. Season with salt and pepper. Garnish each serving with chopped parsley and crumbled saltines.
Newsletter Signup
Stay up to date on all the latest news from Boston.com